*~*~*~*~*~*~*~*~*~*~*~*~*~*~*
Have you won a recent Giveaway from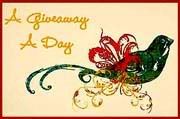 Don't know if you have won? Well here is your place to find out!
If you are a Winner, you will need to email me at
AGiveawayADay@gmail.com
with your mailing address and the item you won in the subject line.
*~*~*~*~*~*~*~*~*~*~*~*~*~*~*

Recent Giveaway Winners!!!

Tuesday, December 30, 2008
Yogos Winner!!
Congratulations
Jeff and Mandee
!!
Jeff and Mandee
said...
My daughter just loooooves Yogos and these would be great to win!
Spread the Love,
Posted by

Liz
at 8:19 PM