*~*~*~*~*~*~*~*~*~*~*~*~*~*~*
Have you won a recent Giveaway from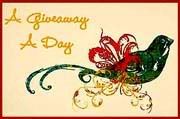 Don't know if you have won? Well here is your place to find out!
If you are a Winner, you will need to email me at
AGiveawayADay@gmail.com
with your mailing address and the item you won in the subject line.
*~*~*~*~*~*~*~*~*~*~*~*~*~*~*

Recent Giveaway Winners!!!

Thursday, February 19, 2009
Crazy K Bath & Body Winner!
Congratulations to
Gloria
who won the Gift Certificate from
Crazy K Bath & Body
! I emailed you.
Spread the Love,
Posted by

Liz
at 7:38 AM